After a three year COVID-induced hiatus, Suku Mentawai (YPBM), together with the support of IEF, have worked intensively through September-October 2022 to complete the final edit of the first-ever Mentawai produced ethnobotany field guide, Siureman Purimanuaijat ka Simattaoi. The book, based on extensive research conducted throughout 2019, was launched with much anticipation in Muntei village, Southern Siberut in October 2022.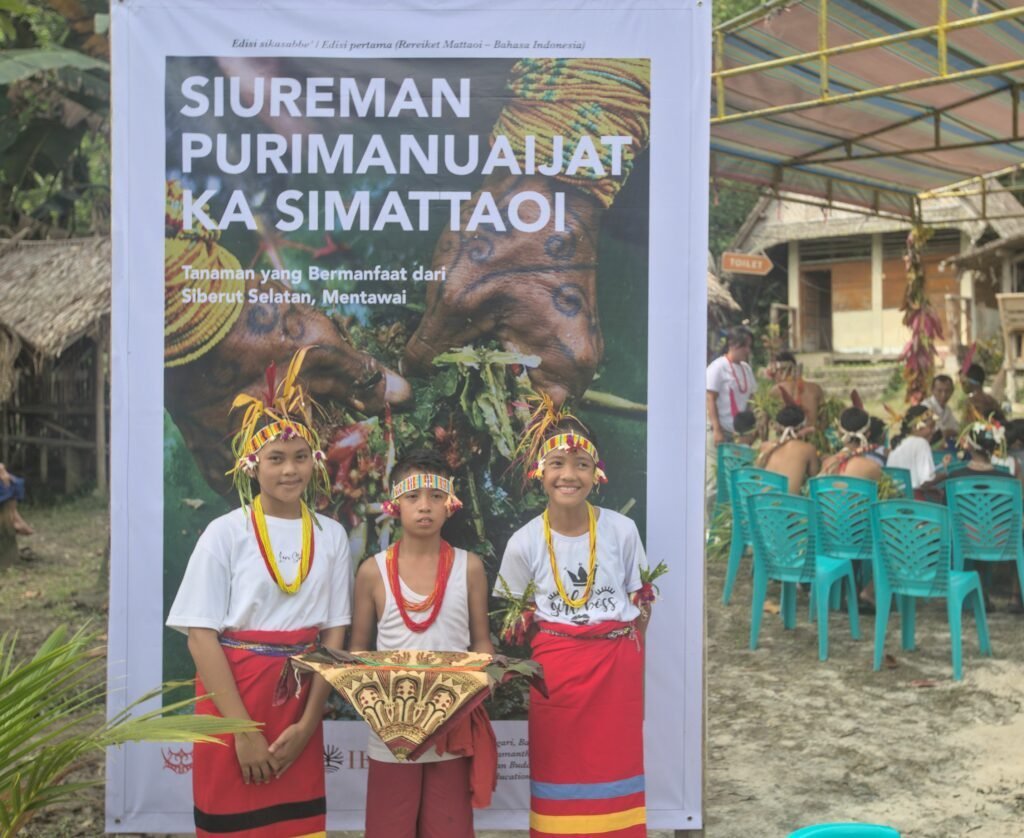 Students from the Suku Mentawai program welcoming guests to the book launch of Siureman Purimanuaijat ka Simattaoi in Muntei village, October 2022.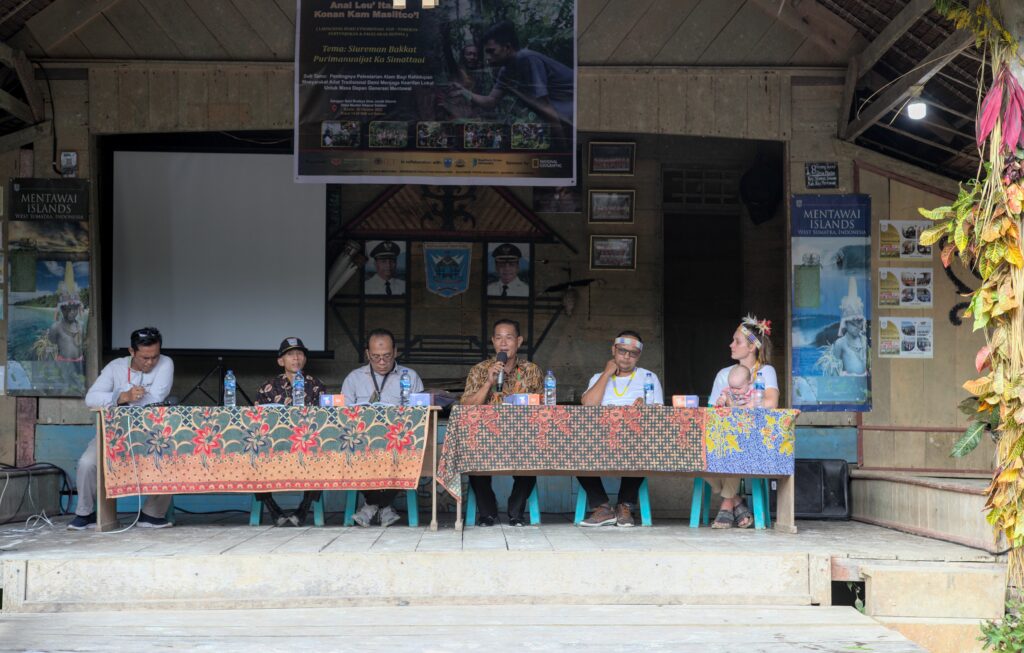 Panel discussion with Josep Sagari (Moderator), Sujono, S.Pd (Coordinator of Mentawai Education & Cultural Department), Anton (Director of Siberut National Park), Hijon, S.Pd (Southern Siberut Camat, Fransiskus Yan (Suku Mentawai Chairman) and Samantha Lee (Co-Editor and IEF representative).
Written in both Bahasa Indonesia and Rereiket Mattaoi (one of Siberut's many Mentawai dialects), the field guide is designed to support Suku Mentawai's cultural and ecological education program in teaching young Mentawai children and students about Mentawai's plants, ecological knowledge and the interconnectedness between Mentawai's unique knowledge systems and surrounding forests.
Co-Editor, Santi Sagari states: "Many people in our community were concerned that our plant knowledge might become lost or diluted in the next generation. For many reasons, much of today's young generation lack knowledge about Mentawai plants that are often used for our daily needs, be it medicinal plants, building materials, food ingredients, etc. With this book, we hope the students realize that Mentawai's plants are very important for the life of the Mentawai people. Ultimately, we cannot live without our plants.".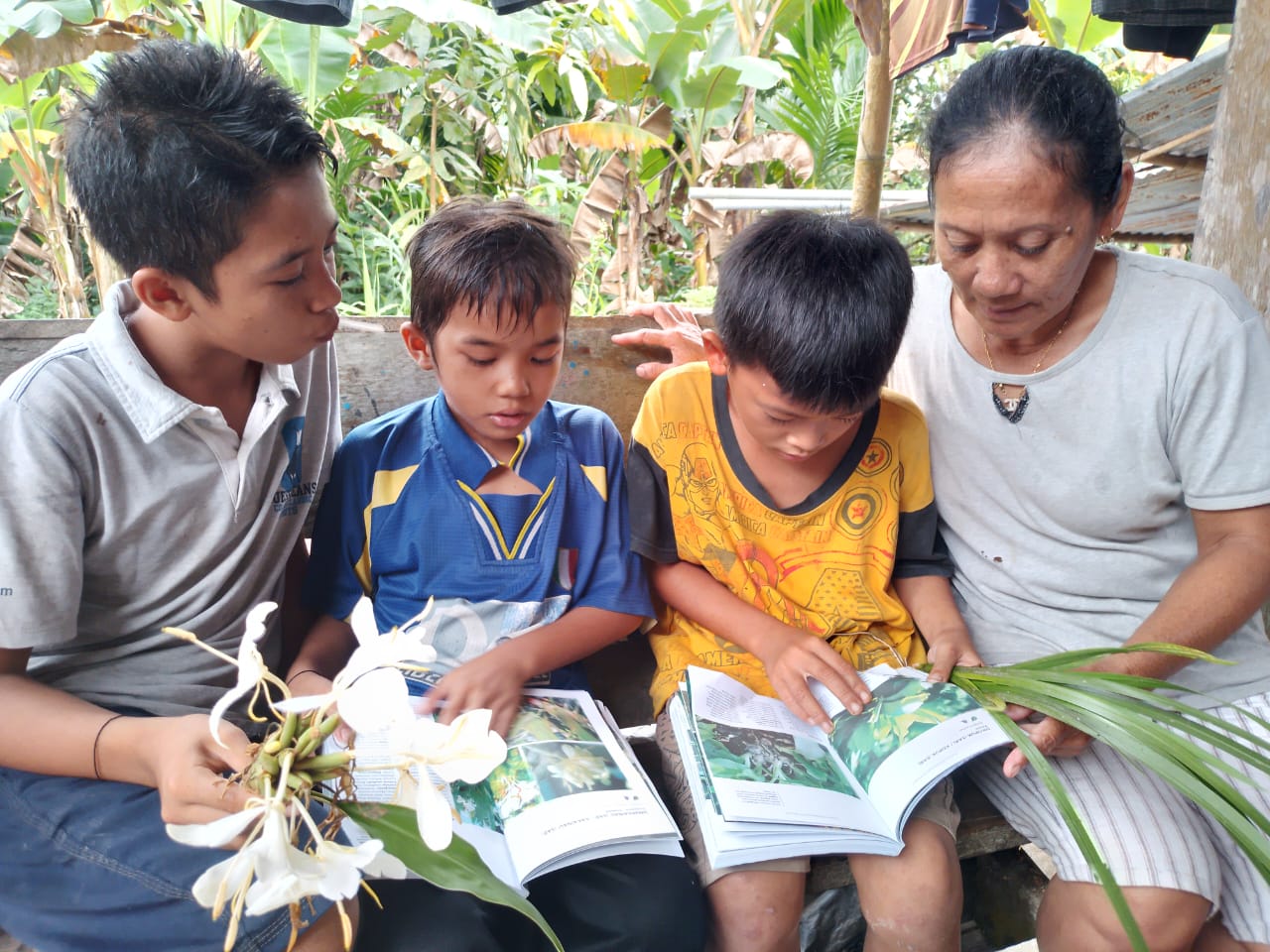 Students from Cutural Hub Bukbuk Simaeru' (Muntei) learning from Bai Rut Saruruk about the uses and importance of simakkainau' and sumamra.
One Suku Mentawai student explains, "To me, this book means that I can now learn about Mentawai plant medicines – the names of each plant, how to identify them and utilize them. With this book, I can learn about the many plants that give us Mentawai people life."
Familiar to many across the globe was the difficulty of completing projects throughout COVID lockdowns and travel bans. Over the last few years, digital communication between editors meant progress was slow and unproductive. After returning to Mentawai and spending several weeks working face-to-face with the team again, Australian-based Co-Editor Samantha Lee reflects:
"We've had this project in the pipeline for several years now. With the team split across two countries, it was difficult to push forward throughout the pandemic. Looking back, I am so glad we waited to be back together before finalizing the book. So much of Mentawai's ecological knowledge is shared through extensive discussions, story-telling and place-based experiences – finishing the book via digital communications just wouldn't have given us the ability to share the depth and richness of Mentawai's knowledge needed to finalize the book." 
Siureman Purimanuaijat ka Simattaoi is a tool YPBM and IEF hope will connect younger generations with their indispensable indigenous knowledge, whilst also empowering the continuation of Mentawai's incredibly rich, millennia-old plant traditions. Though Mentawai's knowledges are passed orally through conversation, song, myth and metaphor, Suku Mentawai hope the book may be a bridge connecting traditional knowledge with other modes of knowledge-transmission, especially for those communities living away from forest-based uma communities.
Congratulations to the YPBM team and all involved!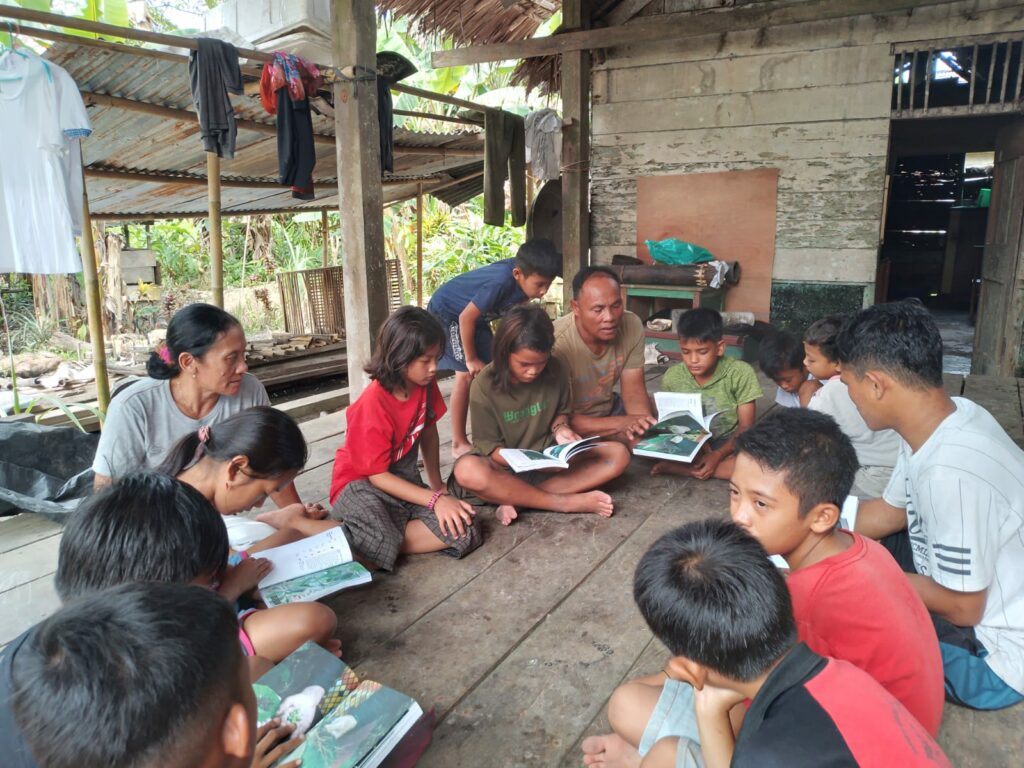 Students from Cultural Learning Hub Bukbuk Simaeru' with their copies of Siureman Purimanuaijat ka Simattaoi.
The Suku Mentawai team are hoping to publish an English / Mentawai language version of this book but do so the team need our help. Pre-order your own copy by donating $100 or more via the following link – DONATE.
Masura' bagatta – thank you,
Indigenous Education Foundation team