2022 marks the beginning of the United Nations Decade of Indigenous Languages, and the Mentawai Cultural Education Foundation are already gearing up to publish a revised edition of their 2019 Mentawai (Rereiket) dictionary.
 Worldwide, Indigenous languages are disappearing at a rapid rate (in fact, one language is lost every two weeks). With the loss of these languages, so too the foundations of culture, cosmologies, ecological knowledge and the histories of those places also become lost or diluted. There is urgent need to document and revitalise these languages before they are lost forever.
 The Mentawai (Rereiket)-Indonesian language dictionary aims not only to document one of Mentawai's many indigenous dialects, but also to provide a tool that allows students to understand the language of their people. Without this opportunity, Mentawai students are unable to communicate and share Mentawai experiences with their friends, parents and members of their extended family.  Your donations made to the Mentawai Dictionary Project have enabled the Mentawai team to conduct vital field research, including checking the dictionary's accuracy with Mentawai elders and discovering new root words that will be added to the upcoming revised edition.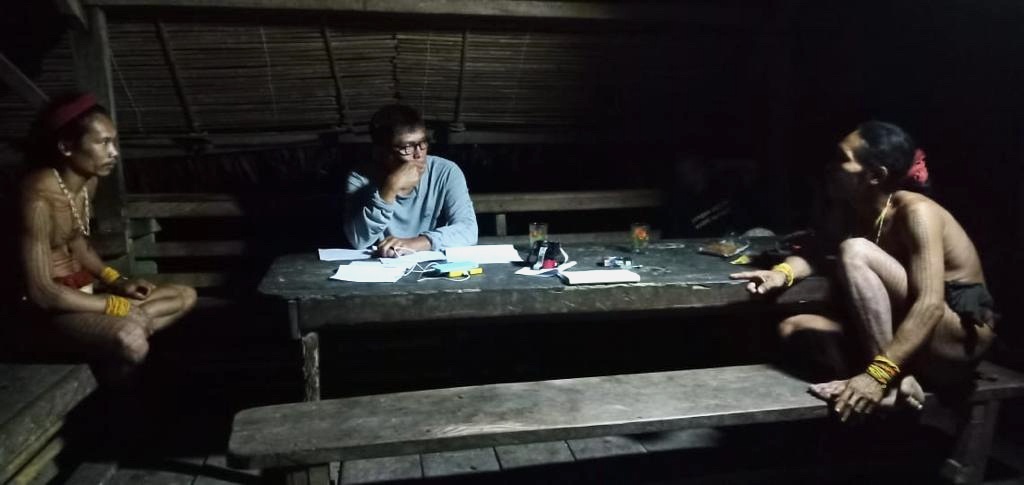 Mentawai Dictionary Advisor, Aurelis Yan, discussing key definitions with Sikerei (shaman), Aman Manja and Aman Sasali.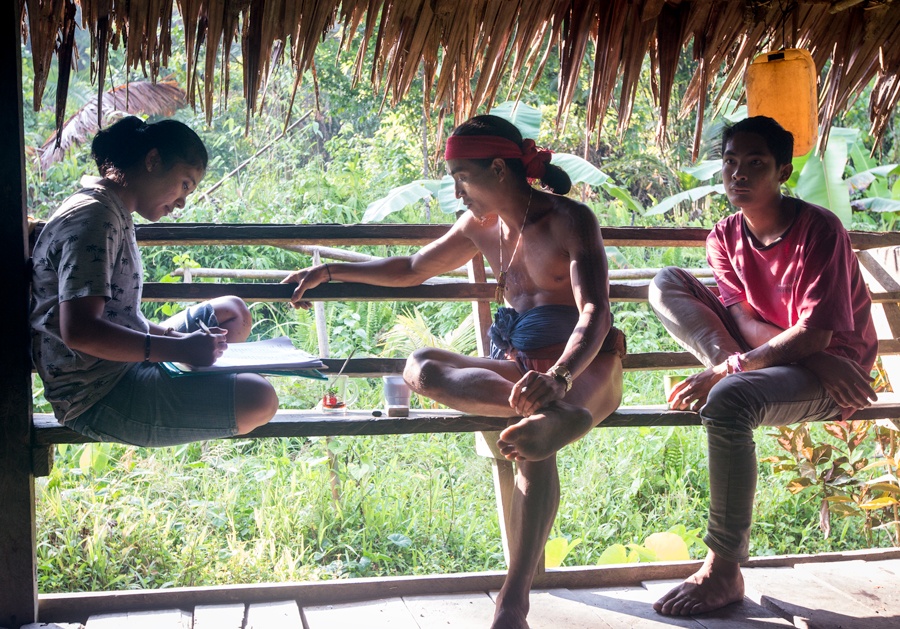 Mentawai Foundation's language documentation researcher, Santi Sagari, cross-checking data with Sikerei, Aman Sasali.
The Mentawai Dictionary committee have also engaged linguist Isabelle Barlow (postgraduate from the University of Melbourne, Australia) to volunteer her support in the revision of the Mentawai Rereiket-Indonesian dictionary. Isabelle spent many years travelling across Indonesia with her father (who worked as a translator throughout the archipelago) and is currently residing in Australia where she works as a paediatric Speech Pathologist, a role which has highlighted for her the importance of exposing children to ancestral languages, and the benefits of immersing children in language-rich environments.
Heading into 2022, the Mentawai team will begin developing a Mentawai (Rereiket)-English version of the dictionary. For many years, the Mentawai people have been pressured to learn English to be able to communicate with international tourists – that, or they must rely on (often foreign) tour guides to help communicate with their guests (revisit the challenges that stem from this issue here). The Mentawai people want to share their language, cosmologies, and relationships they have to their homes, forest and people – something that can only be fully articulated in the language of that province. It is hoped that the English edition will be used by tourists to learn more about the importance of Mentawai's languages and their connection to the Siberut biosphere. Additionally, staff of the Mentawai Cultural Education Foundation believe that learning English will empower members of their community to better advocate for their land and people across international platforms.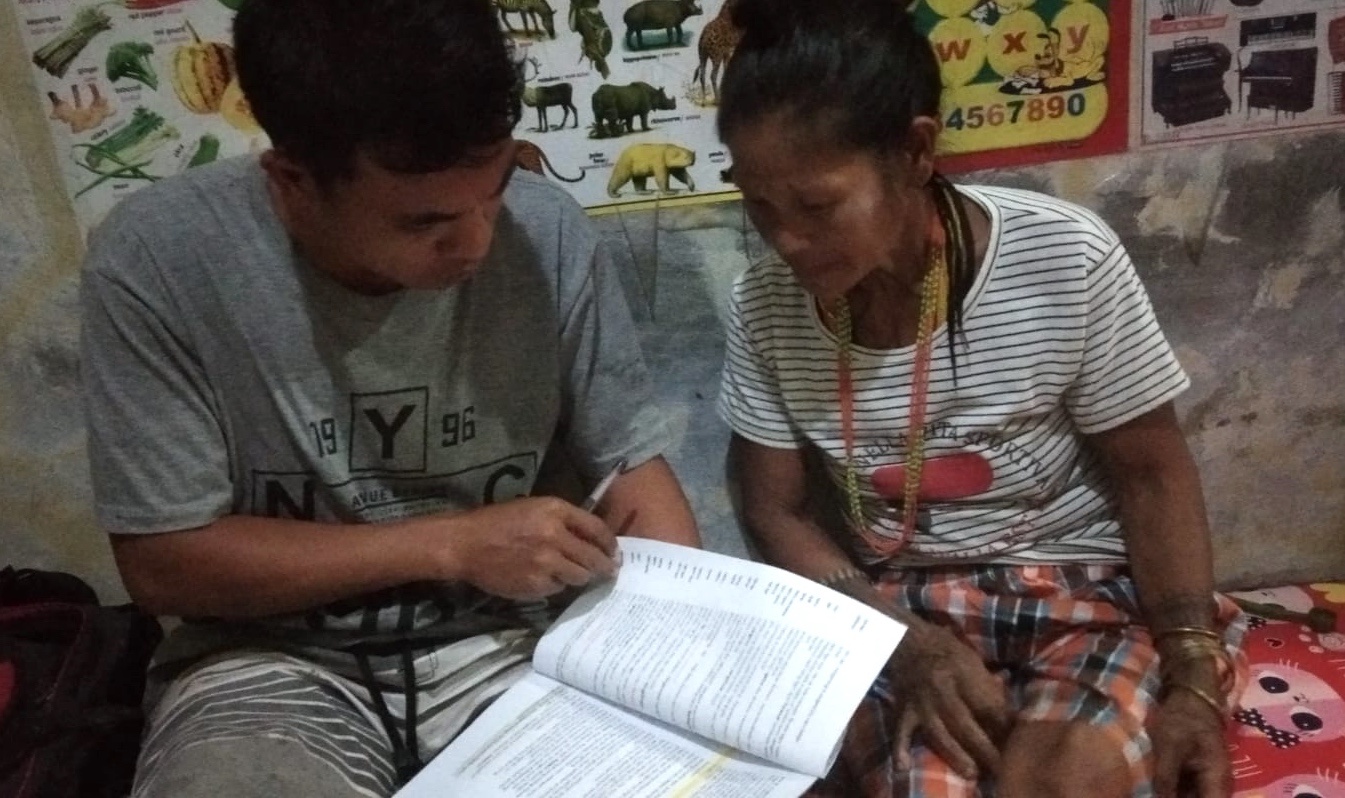 Mentawai dictionary Co-Editor, Terry Salakiran, consulting a Mentawai elder about the current dictionary content and discussing its value for her children's future.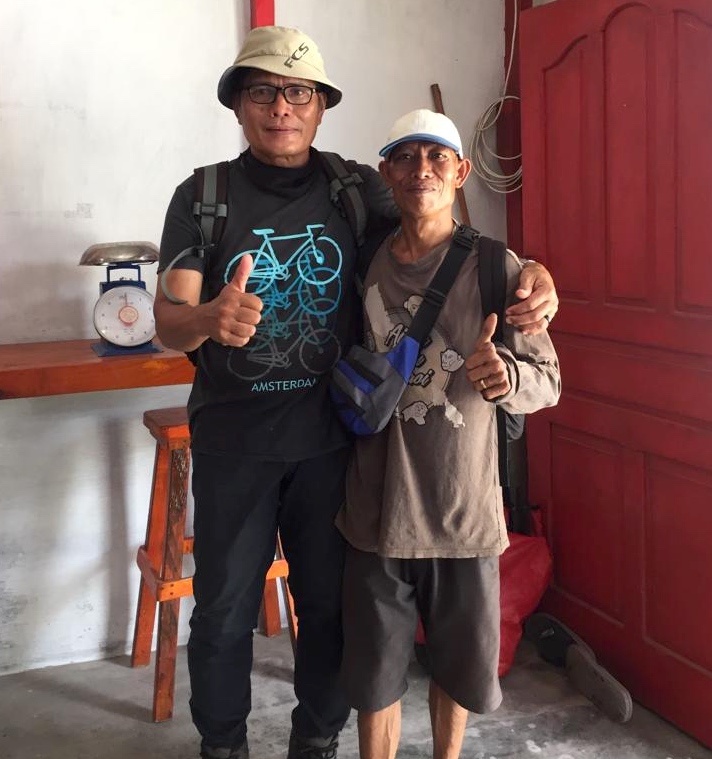 Mentawai language field researchers, Aurelis Yan and Filemon Sagulu, prior to travelling into the southern hinterlands of Siberut Island.
Through the continuous support of our generous donors – that is, you – we are able to provide crucial funding to support the expansion of this Mentawai dictionary project, honouring the custodians of this precious language and the culture that is represented and expressed within.
Masura' bagatta, thank you.