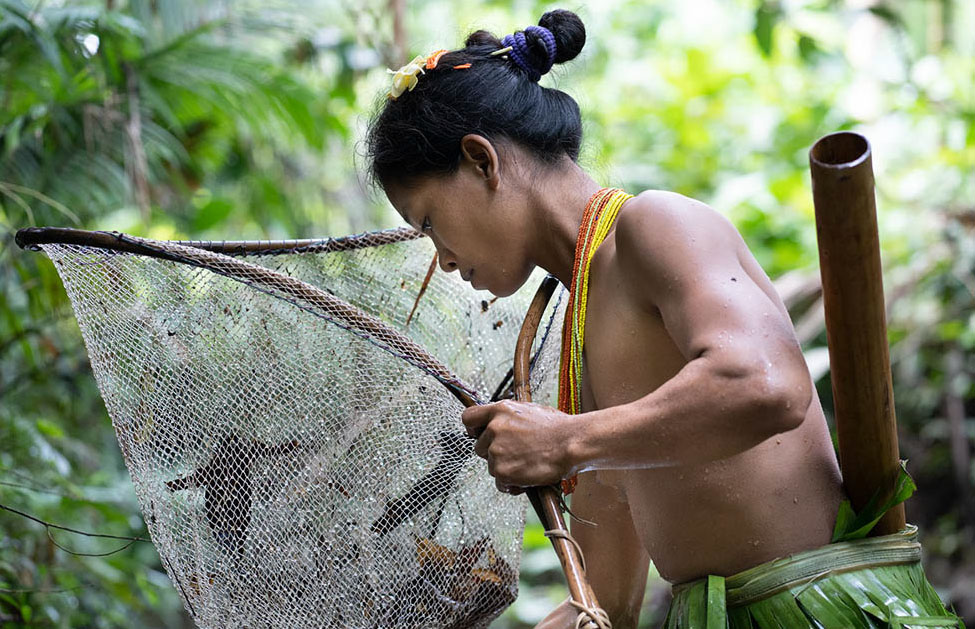 Bai Tiru, a Mentawai mother fishes in the river for crabs, shrimp, and fish.
Bai Tiru never wonders how she will feed her family. She looks to the right of the family's home (Uma) and at the sky to determine if it is a good day to pick up the
subba
fishing net she had been taught to craft as a young girl. Without too much thought, Bai Tiru takes her
subba
and
ogbuk
bamboo cane, dresses in her
soggunei
(banana leaf skirt) and makes her way to the small stream running alongside their home.
While later preparing her catch of small fish – peddeman, potcot, pucce' (iba laita'), tui' (catfish), and small prawn (tu'tu') and crab (buragei) to share with her family, Bai Tiru explains to her children the cultural significance of the paliggagra fishing ritual for women, who gather together in the rivers and streams to share song and story with other girls and women from the area. She also describes the numerous types of fish, crab and prawns and how best to cook and serve them.  The two children are fascinated to learn the depths of their own culture.
Later in life these children find themselves at school, surrounded by a class of students, struggling to share with their peers the significance of paliggagra and the names of all the fish that they enjoy eating with their family. It seems that the other children aren't aware of these stories and language.
To address this gap in knowledge and communication, the Suku Mentawai cultural education foundation published the first Mentawai Rereiket to Indonesian language dictionary. This resource has helped Mentawai students communicate with their elders, share Mentawai stories with their Indonesian friends, and helped educators better connect indigenous students with their language as part of their curriculum. The dictionary has been a success and is now available in the local community and school libraries and used on a daily basis by community leaders in speaking with local government officials and administrators.
Mentawai community leaders also see English as a vital language that can be used to empower their students and community leaders. They have taken the bold step to translate Mentawai (Rereiket dialect) into English to create conditions that prevent isolation and protect them from misunderstandings on the most basic things, especially with foreign travellers, business entrepreneurs, tourists and worldwide community of surfers who frequent their pulagaijat Mentawai every year. The Mentawai now consider English as a valuable language to learn so as to better represent themselves, their community values and their indigenous culture.
Call to action: This translation project requires our support. To contribute, we've setup a fundraiser page via Facebook and are also accepting donations via our donation form.
Masura' bagatta, thank you.