As 2019 draws to a close, the international year of Indigenous languages, an uplifting and inspiring story emerges.
IEF and our Indonesian partner organisation, a team of young, self-driven indigenous Mentawai, are thrilled to announce the successful publication of the first-ever Mattaoi Rereiket to Indonesian language dictionary.
With changing education and social patterns, rapid developments and foreign investments, like many indigenous languages worldwide, Siberut's unique dialects are endangered and quickly eroding.
Dictionary co-researcher, Raimundus Saruruk, shares: "Mentawai children are not learning to speak our language. Within one or two generations our language will be lost, together with it an enormous part of our culture, identity and the opportunity for us to reap benefit from our traditional knowledge – our wealth. This needs immediate attention. First and foremost, we must ensure our children have access and the support to learn Mentawai language."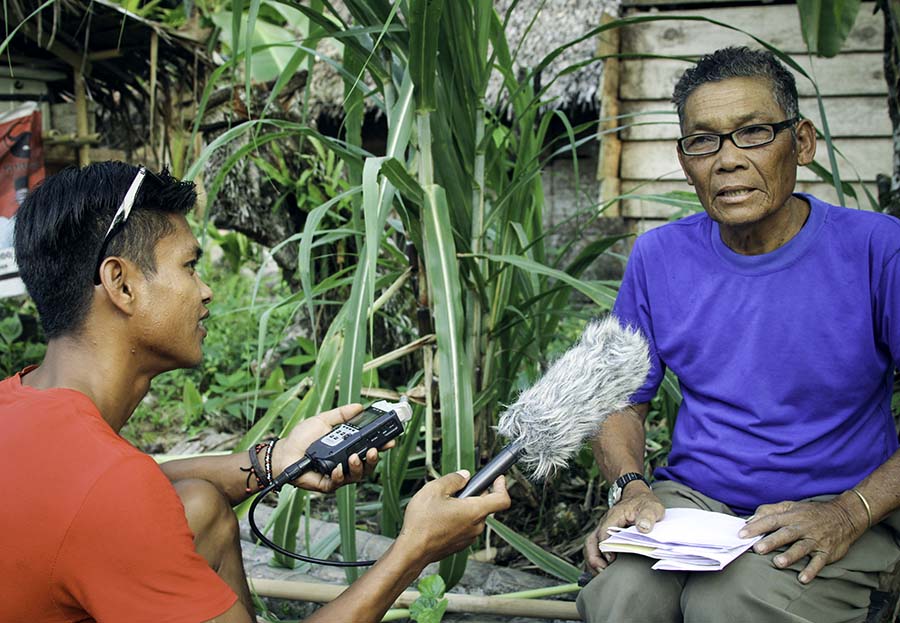 Mentawai researcher, Raimundus Saruruk, documenting oral literature with a Mentawai elder. Photo: Martison Siritoitet
Compiled through countless surveys, interviews and discussions with members of the Mentawai Rereiket community, this is the first Mentawai language dictionary to be initiated and published by indigenous Mentawai people for the benefit of their own community.
Dictionary co-editor and Chairman of IEF partner organisation YPBM, Fransiskus Yan, states: "At present, Mentawai language is not taught in school, so part of our foundation's mission is to facilitate access for students to learn Mentawai language. Our team is here to provide [cultural education] support and guidance to our community… to safeguard our culture for the future benefit of us all."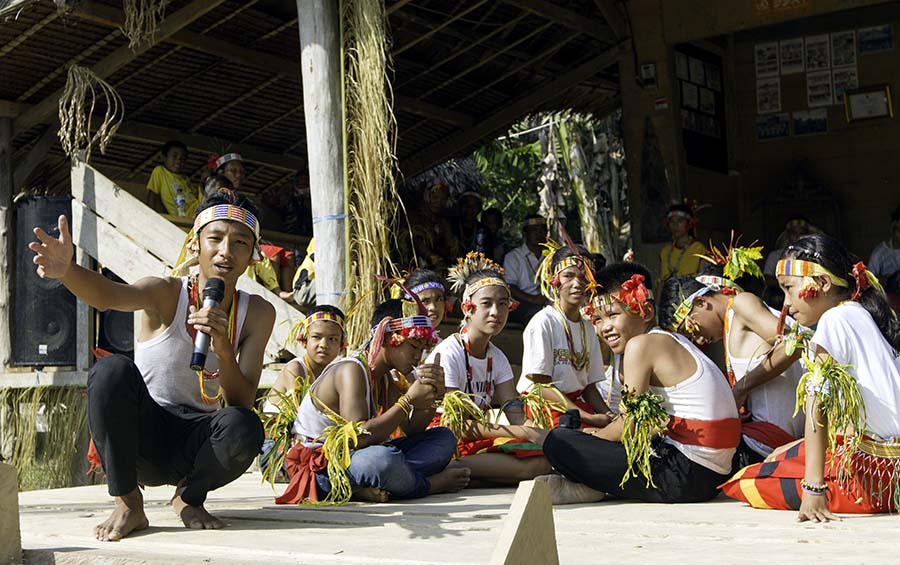 Mentawai students express cultural folklore and oral literature through theatrical performance. Photo: Bastianus Sakarigi
Recognising the immense initiative taken by a small grassroots foundation, several Mentawai senior government leaders travelled to Siberut in November to attend the dictionary launch event.
"Mentawai people have been falsely led to feel embarrassed to speak our own language, and to express ourselves through our cultural attributes. I fear we are losing our identity. Attending this Mentawai dictionary launch event, hearing the story of YPBM and seeing all these students perform, I myself am extremely confident that we will not lose our culture, or our language. The work of YPBM is critical. We must all take note and work together to support." Head of southern Siberut Island district department, Hijon, S.Pd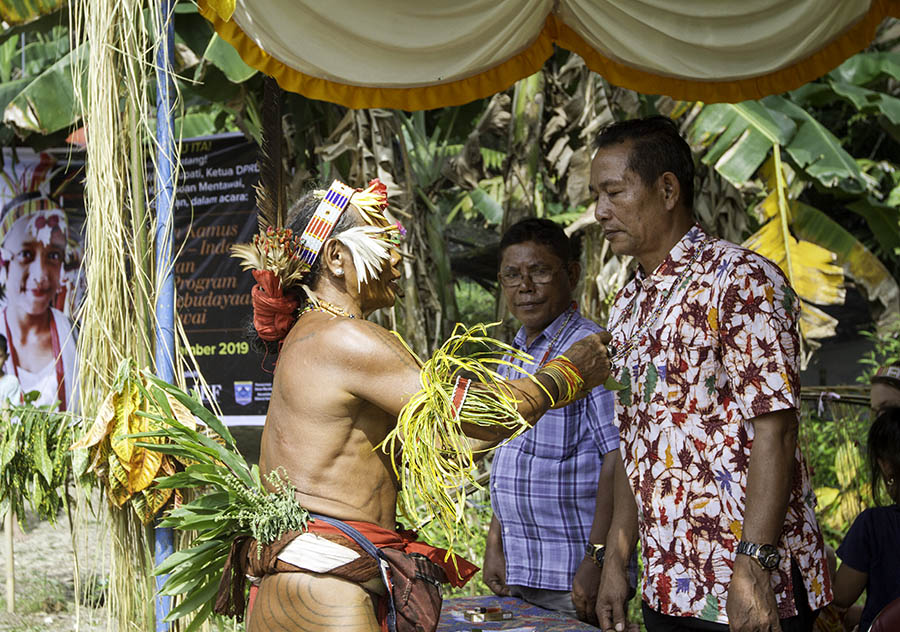 Head of Siberut Island southern district, Hijon, S.Pd, is ceremonially welcomed to the dictionary launch event by Mentawai Sikerei, shaman. Photo: Raimundus Saruruk.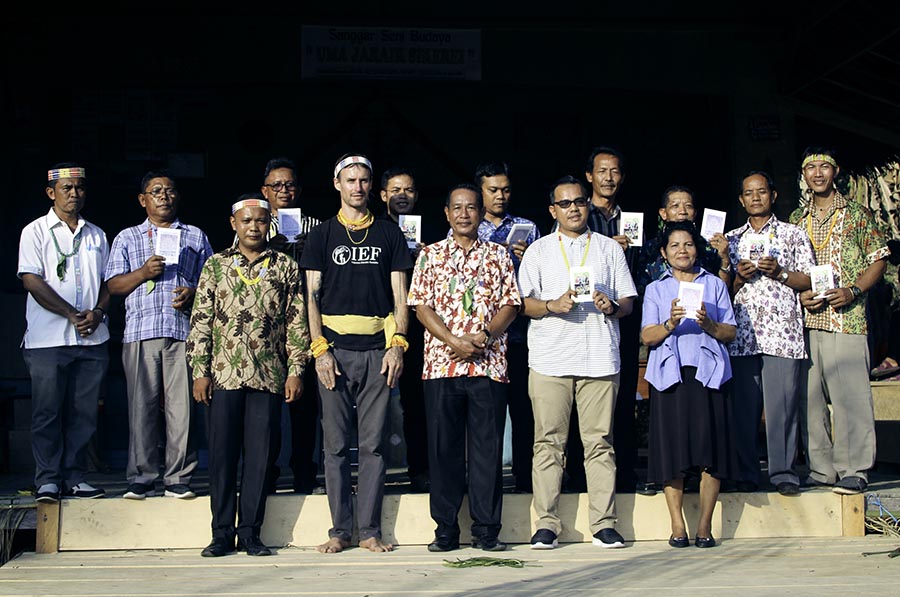 Mentawai senior government officials, heads of educational institutions and other are presented with a copy of the Rereiket dictionary. Photo: Bastianus Sakarigi.
Moving forward, IEF will continue to facilitate opportunity for YPBM to publish a Rereiket-English language edition, and to continue documenting Mentawai's many other endangered dialects.
IEF President Rob Henry shares: "The YPBM team have gained a lot of skills, confidence and capacity throughout the course of this language documentation project. Beyond their current financial limitations, there is nothing stopping them from furthering this project and documenting all of Mentawai's endangered dialects over the coming years. They are an enormous asset for the future protection of their people." 
IEF
The IEF relies on Australia's private sector and individuals to effect long-term, sustainable education solutions for Indigenous peoples worldwide. All donations over $2 are tax-deductible. IEF will provide you with a receipt of your donation. www.iefprograms.org/donate
IEF wish to acknowledge the support of LUSH Charity Pot for their financial assistance with this project. Copies of this dictionary are available for purchase at the YPBM office or via our IEF online shop.