"Yayasan Pendidikan Budaya Mentawai's (YPBM) goals and objectives align with our educational vision and agenda to preserve and strengthen Mentawai culture. There is very large potential for this [locally-run] foundation to advance these objectives through cultural education. For that, we provide support and commitment to develop a partnership agreement to use their program as a practical model to promote cultural education framework throughout Mentawai, particularly for students in schools to help restore our cultural identity," Oreste Sakeroe, Head of Mentawai Education and Cultural Department.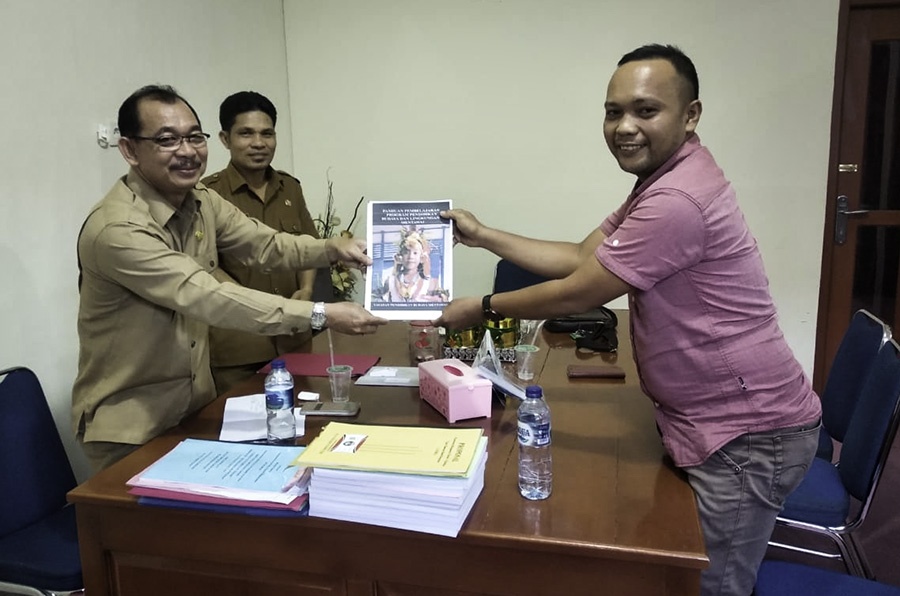 With support from IEF, our Mentawai partner foundation (YPBM) initiated the engagement of Mentawai's central government to further the objectives of their Indigenous learning hub program. Oreste Sakeroe, head of Mentawai education department, receives a copy of the program's topic-based curriculum from YPBM Chairman, Fransiskus Yan.
IEF continues to work closely with our Indigenous Mentawai partner organisation (YPBM) in strengthening their organisational capacity. Too often little consideration or importance is placed on restoring and empowering the capacity of Indigenous-led initiatives, resulting in distorted partnerships and funding arrangements that appear do little more than to superficially tackle issues rather than addressing directly the level of disadvantage and inequalities that Indigenous peoples face. By creating this capacity, the sustainability of Mentawai's indigenous learning hub program will be greatly enhanced.
At IEF, we believe that building trust and engagement between indigenous communities and government departments is a crucial step in ensuring effective participation in decision-making, particularly decisions that directly impact the livelihood, landscapes and sustainable development of their people. YPBM has taken a bold step forward and initiated a long-term engagement with the local government to improve education equity for its community and the broader Indonesian education system. As a result, it has entered into a landmark agreement with the head of Mentawai government (Bupati) and the Education & Cultural Department. This understanding is in the form of a letter of engagement to support the integration of their Indigenous learning hub program into the Mentawai formal schooling program. The government's pledge is based on the notion that every student must have an opportunity to be taught about all cultures within the national heritage –particularly their own—to promote cultural understanding and tolerance. This is a significant step forward towards Indonesia realising its vision of the United Nations Sustainable Development Goals and enhancing social cohesion and recognition of the richness of its cultural diversity.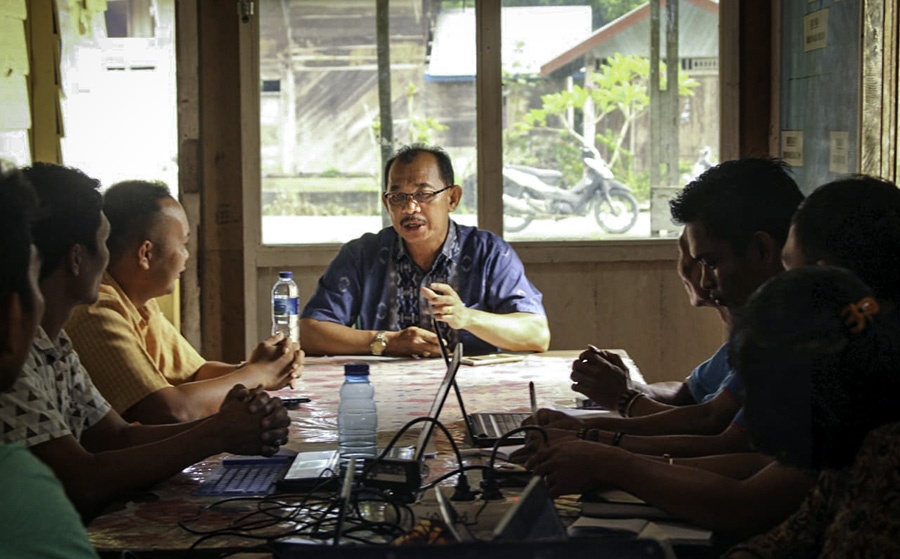 In a show of commitment, Head of Mentawai EducatIon & Cultural Department, Oreste Sakeroe, travelled to the Mentawai Foundation (YPBM) office on Siberut Island to meet the team and discuss this landmark partnership agreement to enable all students throughout Mentawai access to their Indigenous learning hub program.
"We developed our extracurricular, indigenous education program so that our students can access and benefit from our traditional Mentawai knowledge, which includes our language, art, music, mythology, ecology and more. Our program springs from within our community and is led by members from our community. We are optimistic about our government making the commitment to support its expansion across the Mentawai region. Their support is uplifting for our people. We are encouraged by this opportunity to participate in a policy-level discussion about our children's education and ability to make a choice based on our own vision and objectives." adds Yayasan Pendidikan Budaya Mentawai Chairman, Fransiskus Yan.
Our Mentawai partner's Indigenous learning hub program currently provides educational benefit to Mentawai teachers (10) and students (120) across five of the government-run settlement villages on Siberut Island. These settlements, due to heavy influence from nationalised, foreign systems and practices, are where cultural revitalisation is most needed. The immediate target is to expand this program across 11 government settlements within the coming year, strengthening education capacity and equity for 22 indigenous Mentawai teachers, knowledge hub managers (11) and students (240).
Follow along as the story unfolds via IEF and/or our Suku Mentawai partner's Instagram pages.
IEF