In our dramatically changing world, the recognition and respect of Indigenous identity, knowledge, and their unique relationships with the natural world are the foundations to safeguarding Earth's diversity. Amid our current global crisis, partnering with Indigenous peoples to identify and capture traditional ecological knowledge and wisdom is pivotal in biodiversity conservation, and ultimately guaranteeing a vibrant, fertile future. Especially given Indigenous peoples founded, practice and are the primary custodians of sustainable development.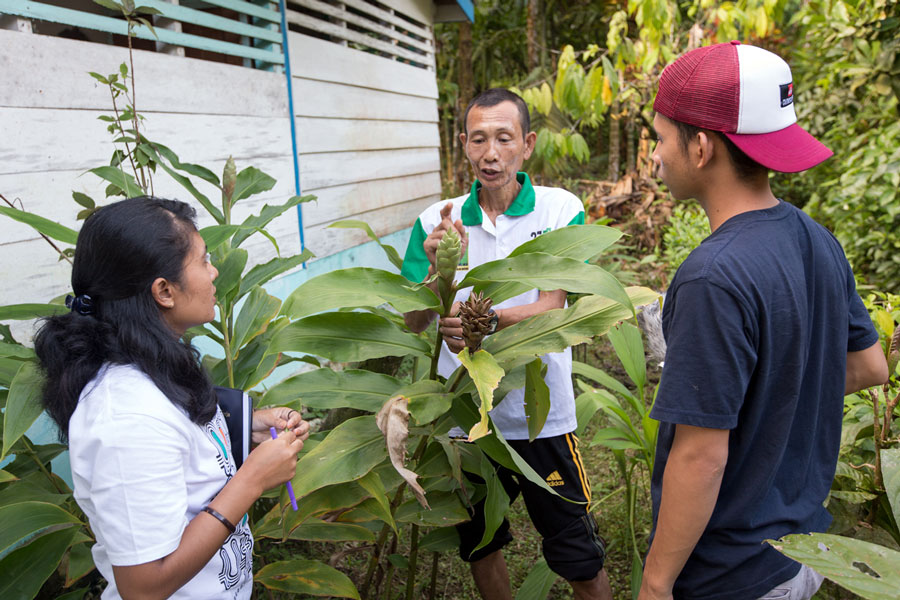 Mentawai researchers, Santi and Martison, learning from Mentawai elder, Pak Germanius,about the importance of the 'Simakainauk' flower within Mentawai culture and ceremony. Photo: Rob Henry
Over the last few years, IEF Operations Manager, Samantha Lee, has been working closely with our partner organisation Yayasan Pendidikan Budaya Mentawai to identify key aspects of Mentawai knowledge that is missing from their children's education. In January 2019, Samantha and the Mentawai team began developing and implementing a research strategy to document Mentawai's medicinal and beneficial plants.
Santi Sagari, a proud young Mentawai woman who has returned to her community after completing her university studies on mainland Sumatra, has taken lead on this ethnobotanical research project. We sat down with her to discuss how her involvement is shaping her future, and that of her people.
Santi states "Prior to this project, I didn't have a job and I knew very little about the value of our culture and natural resources. Now it is clear to me. Sure, employment opportunities are very limited here, but we have access to virtually all that we need to survive and prosper. This project is critical because it will help our community realise the wealth we have in natural resources. Equipped with this knowledge, we'll work together to preserve and nurture our forests for future generations."
We believe that empowering opportunities like this not only produce better results for the community, but give positive impact to individuals. Santi is now driven to learn, teach and protect Mentawai culture.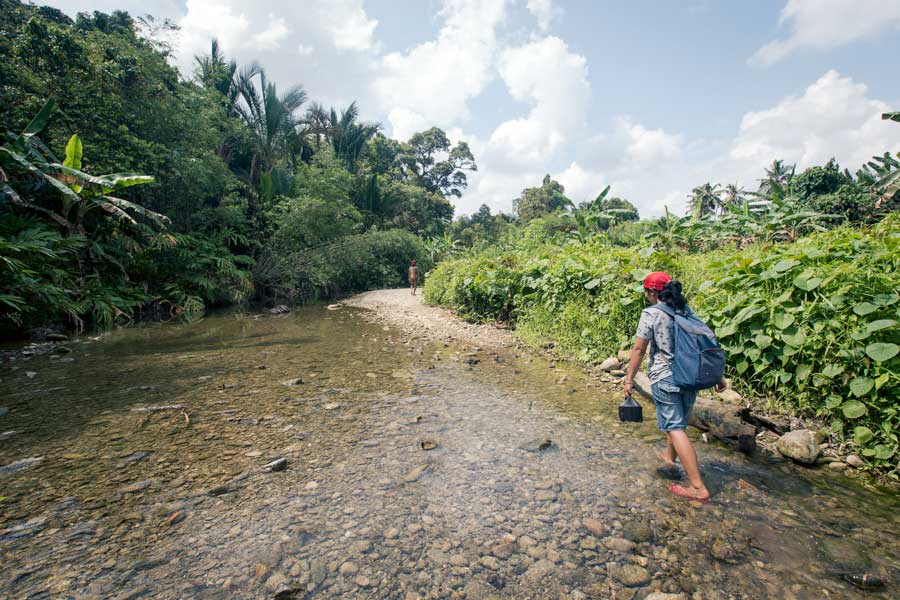 As a Mentawai woman from the Sabirut region of Siberut Island, Santi is aware of the true wants, needs and attitudes of her community. Her ability to speak the Mentawai language, and pick up regional variances in dialects has added immense value to the research and improved its accuracy. Not only are we able to document important plants and their uses, but we are documenting important botanical terms and phrases, and vernacular names specific to the region – a task inextricable to preserving Siberut's unique ecosystem. Her understanding of local governance structures and community needs is also vital in ensuring external assumptions are not imposed. Instead, we allow the Mentawai people to speak for themselves.
During our preliminary investigations we found that, of the few studies that have already been conducted on Mentawai's largest island, Siberut, none of these seemed to include the Mentawai community within their research planning, design and execution. Additionally, research findings and benefits were rarely returned to the community. These types of extractive methodologies applied in ethnological research tends to irreversibly alienate communities from the relevance and consequences of research programs, and in turn further isolates Indigenous communities from advancing the inherent value of their contribution to global biological and cultural diversity.
We found this alienation to be true amongst the Mentawai during the early stages of our research, with several participants in our engagement activities expressing their hesitation to participate. These participants stated that foreign researchers (both Indonesian and international) continue to arrive asking for data without ever returning to community to share the results or provide any benefits for their Mentawai children. This deeply disappointed and jaded the community.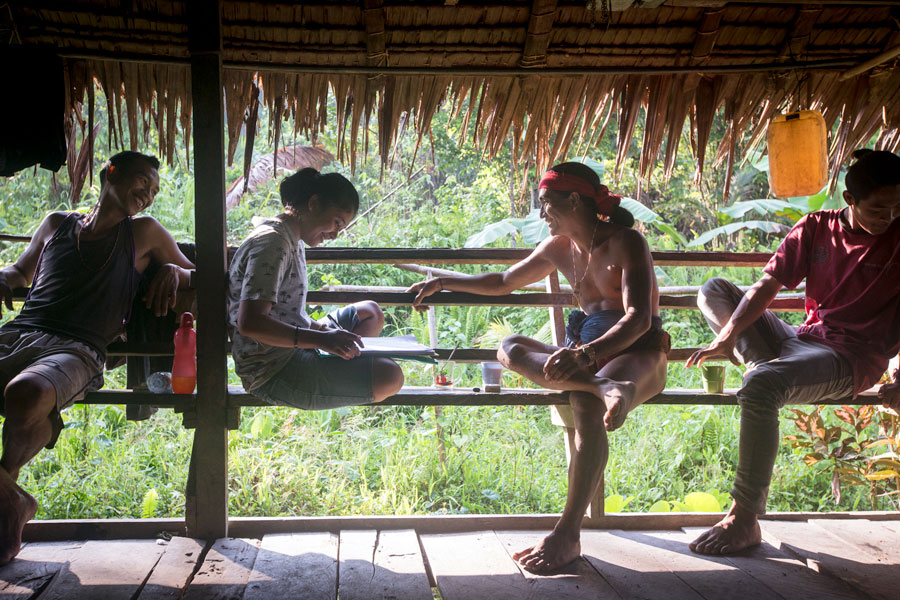 At IEF, we believe that this is unjust, and is incredibly harmful to what we expect to be a very crucial partnership in healing and promoting sustainablity on our planet. Instead, our collaborative approach seeks to acknowledge the livelihoods, rights and customs of the Mentawai people, and include their opinions, systems and knowledge in research activities. Our key driver is to move beyond theory, and instead provide a means in which their ancient, alive wisdom may be preserved, acted on, and adapted to the needs of the global society. We believe this approach can support the development of appropriate conservation strategies relevant to the community, thus providing local and regional solutions for development and conservation, and thus contribute to global development goals.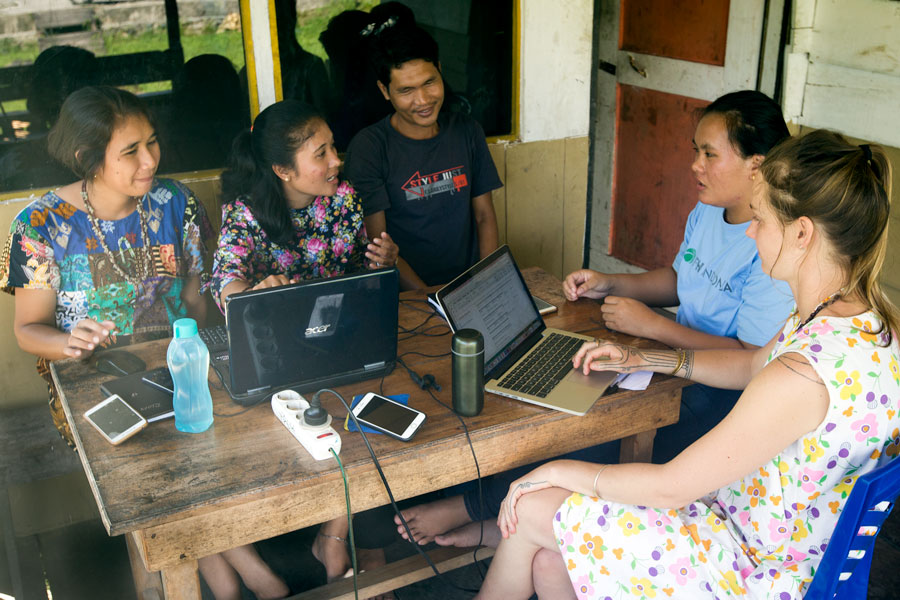 Within this approach, rather than adopting methodology and conclusions advanced from an academic paradigm, our questions, methods and interpretations have been shared with, directed and shaped by the Mentawai community. Thereby, encouraging cultural revitalisation, and capacity-building for the preservation of their traditional ecological knowledge, wisdom and practices.
Please continue your support for Yayasan Pendidikan Budaya Mentawai's mission to preserve their cultural and ecological knowledge. Follow their journey via Instagram, share amongst your networks and become a monthly donor. Masura' bagatta – thank you.
IEF
Samantha and YPBM would like to acknowledge the National Geographic Society for their financial support toward this project.