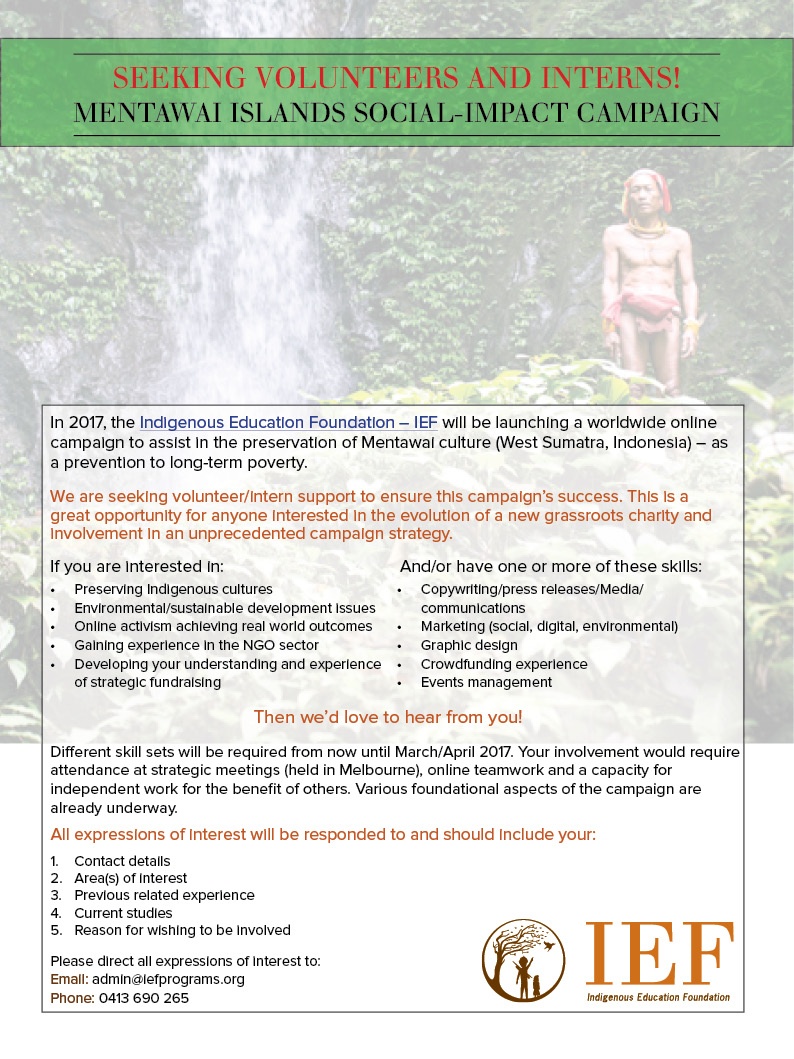 In 2017, the Indigenous Education Foundation – IEF will be launching a worldwide online campaign to assist in the preservation of Mentawai culture (West Sumatra, Indonesia) – as a prevention to long-term poverty.
We are seeking volunteer/intern support to ensure this campaign's success. This is a great opportunity for anyone interested in the evolution of a new grassroots charity and involvement in an unprecedented campaign strategy.
If you are interested in:
• Preserving Indigenous cultures
• Environmental/sustainable development issues
• Online activism achieving real world outcomes
• Gaining experience in the NGO sector
• Developing your understanding and experience of strategic fundraising
And/or have one or more of these skills:
• Copywriting/press releases/Media/ communications
• Marketing (social, digital, environmental)
• Graphic design
• Crowdfunding experience
• Events management
Then we'd love to hear from you!
Different skill sets will be required from now until March/April 2017. Your involvement would require attendance at strategic meetings (held in Melbourne), online teamwork and a capacity for independent work for the benefit of others. Various foundational aspects of the campaign are already underway.
All expressions of interest will be responded to and should include your:
1. Contact details
2. Area(s) of interest
3. Previous related experience
4. Current studies
5. Reason for wishing to be involved
Please direct all expressions of interest via our Administration.
IEF